Under mina många år som logoped har jag mött föräldrar till barn med språk- och talsvårigheter. Och föräldrar vars barns språk och tal utvecklas precis som det ska, men som är intresserade av hur det går till och vill veta mer om hur man kan uppmuntra och stödja språkutvecklingen.
Här på Språklek  samlar jag kunskap och information. Sidan förändras hela tiden, ny information kommer till och fördjupande texter förs in. Kollegor och vänner som är experter på olika delar av barns språkutveckling får bidra med sin kunskap på inlägg som inleds med ordet INTERVJU. Ibland händer mycket, ibland står det still beroende på hur många projekt som pågår. Uppdateringar brukar introduceras på Språkleks Facebooksida och Twitter.
I min webbutik, ordaf.se,  finns språkutvecklande böcker och material. En del har jag gjort själv, annat är översatt eller har andra författare. Till en del av böckerna finns också bonusmaterial i webbutiken.
Här finns ett blad om Språklek som kan skrivas ut och sättas upp i förskolans hall eller BVC:s väntrum. Språklek för anslagstavlan

Om Astrid Frylmark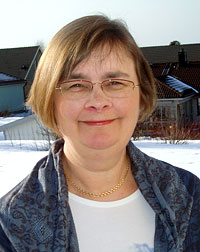 Leg. logoped med lång erfarenhet av språk – röst – tal – kommunikation. Mina specialområden är läs- och skrivsvårigheter/dyslexi, barns språkutveckling och röstterapi.
Jag har sällan ångrat mitt yrkesval. Det är meningsfullt att arbeta med att på olika sätt underlätta människors språkliga kommunikation när denna inte fungerar.
Som kliniker har jag mest arbetat med barns språkutveckling och från mitten av 80-talet alltmer inriktat mig på utredning av dyslexi och andra läs- och skrivsvårigheter. Efter många år i kommun och landsting tog jag steget 2007 och började arbeta i eget bolag. Jag har kurser, föreläsningar och studiedagar runt om i landet och anlitas också för utvärderingsuppdrag mm. Jag följer med i vad som händer inom forskningen nationellt och internationellt.
Jag har varit engagerad i många olika ideella sammanhang inom mitt ämnesområde, t.ex. varit ledamot i styrelsen för International Association of Logopedics and Phoniatrics, IALP.  vilket var mycket inspirerande. Vidare har jag varit en av ledamöterna i Attention-Riks kunskapsråd, varit ordförande i Svensk Intresseförening för Tal och Språk, SITS, och styrelseledamot i Svenska Dyslexiföreningen. Ett par fina priser har jag mottagit, SCIRA:s hedersdiplom år 2018 och två år tidigare mottog jag Svenska Logopedpriset.
CV här!